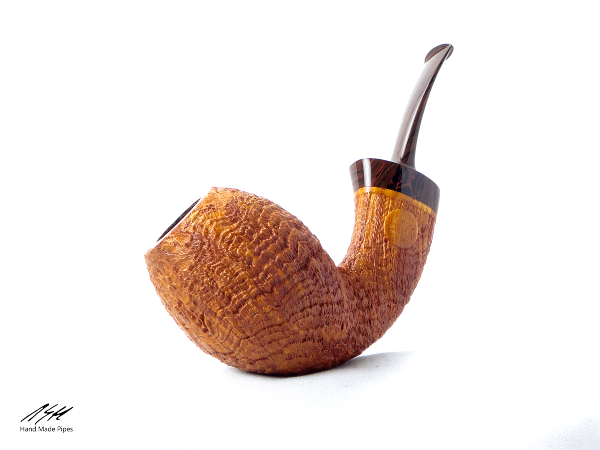 Tad Gage, CPCC Doctor of Pipes, Reviewer for Pipes and Tobaccos "Trial By Fire", and Author of The Complete Idiot's Guide to Cigars, wrote: I am loving my egg. There are many artistic masterpieces out there, but your ability to strike a balance between creative design, comfortable hand feel, and beautiful engineering to create unique shapes that invite being smoked is impressive. The blast you achieved is a visual and tactile pleasure. Your careful attention to hand cutting bits and buttons, which combines a great mouth feel and excellent draw, is right up there with the best of the best. And it's obvious you use the finest briar — properly sourced and cured — because this is a great tasting pipe, as well as a great smoker. I am impressed with your ability to develop distinctive shapes that invite being smoked, and not simply admired. It was also a special treat to share lighting my first bowl in "the egg" with you at the Chicago CPCC show. While this is my first DSH pipe, I'm confident it will not be my last.
William Miller,
President of the Golden Gate Pipe Club, San Frascisco,
wrote:
I wanted to say hello and how nice it was to meet you at the Chicago pipe show. I am really enjoying both pipes. I have smoked Arcadia in the Moon Rock [Dublin] several times and it is delightful. I gaze at the cratered surface and my mind wanders to all sorts of fantastic extraterrestrial places. I have not yet smoked the Meteorite. It is so delicate and special. I may leave it pristine.
Pierre T. wrote on Reddit (emphasis is his):
My father has a small collection of sperm whale teeth… Around 30 years ago, he bought a smaller tooth that he cut into three pieces… Not too long ago he gifted me the cross sections with which to do whatever I pleased. They were the perfect size for a pipe ferrule, and being the pipe fanatic that I am, decided to get it put onto a pipe. As far as smokeability and comfort go, David Huber makes some of my favorite pipes. So, I decided to go with him for the commission… after a long waiting period, the pipe is finally complete, and it looks to have been totally worth the wait.
…This pipe will not only be a great reminder of my father's memory when he passes, but mine as well when I pass this pipe on as a family heirloom. All in all, this is the most important pipe in my collection.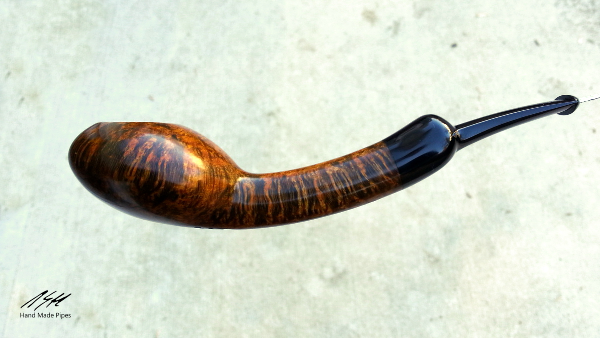 Andy K. wrote:
I was off work due to rain today and smoked the "Stinger". (The "bee" shaped interpretation you did from one of Michail Revyagin's shapes.) The pipe smoked awesome. Excellent airway. It still amazes me how light it is for a smooth pipe as densely grained as it is. I still think it may be the best grained smooth pipe I own. It also smoked very dry. I usually have to run a pipe cleaner through most of my pipes once or twice while smoking, but I didn't have to run one at all. I smoked the newer Durbar mixture from Dunhill. A pretty tasty English with some decently pronounced orientals that are tempered by the strength typical of some of the Dunhill blends in my limited opinion. The blend gets along very well with the pipe and man is that pipe a looker!
Edward F. wrote:
Wow!! I opened the box as soon as I'd returned and I was just blown away by your work. The sharpness of the shank lines and edge of the rim are truly excellent. Such beautiful lines and curves as well – I love it. The acrylic floc reminds me of the milky way or a brooding storm above a planet and I think it was an inspired choice. The highlight for me however is your moonrock work which is delightfully tactile. My fingertips have been finding comfortable craters since I got home. Plus it is simply stunning to look at, especially with Chris' bone finish and your wonderful rustication. … I'm so pleased I had the opportunity to add such a special piece to my collection.
Testimonials
December 4, 2012